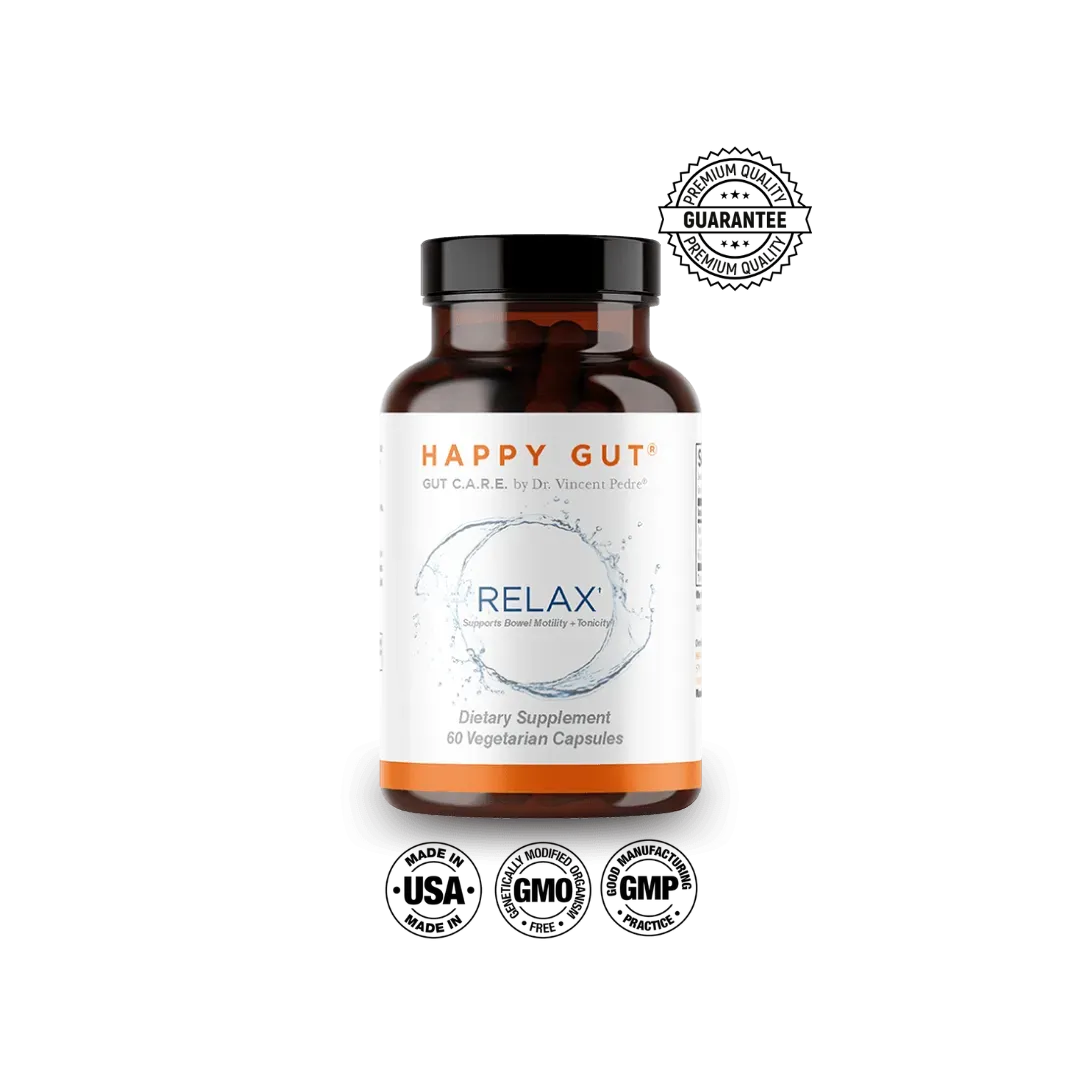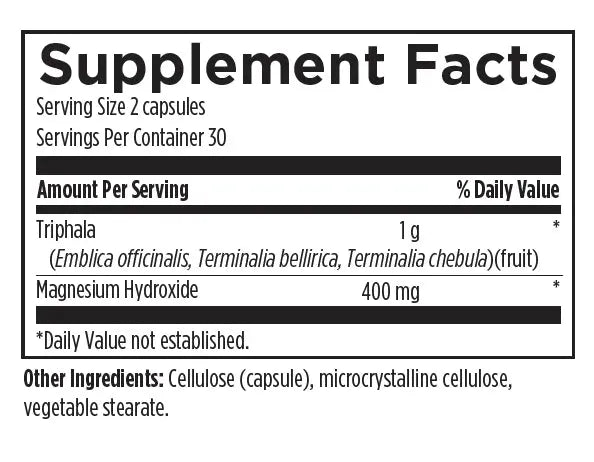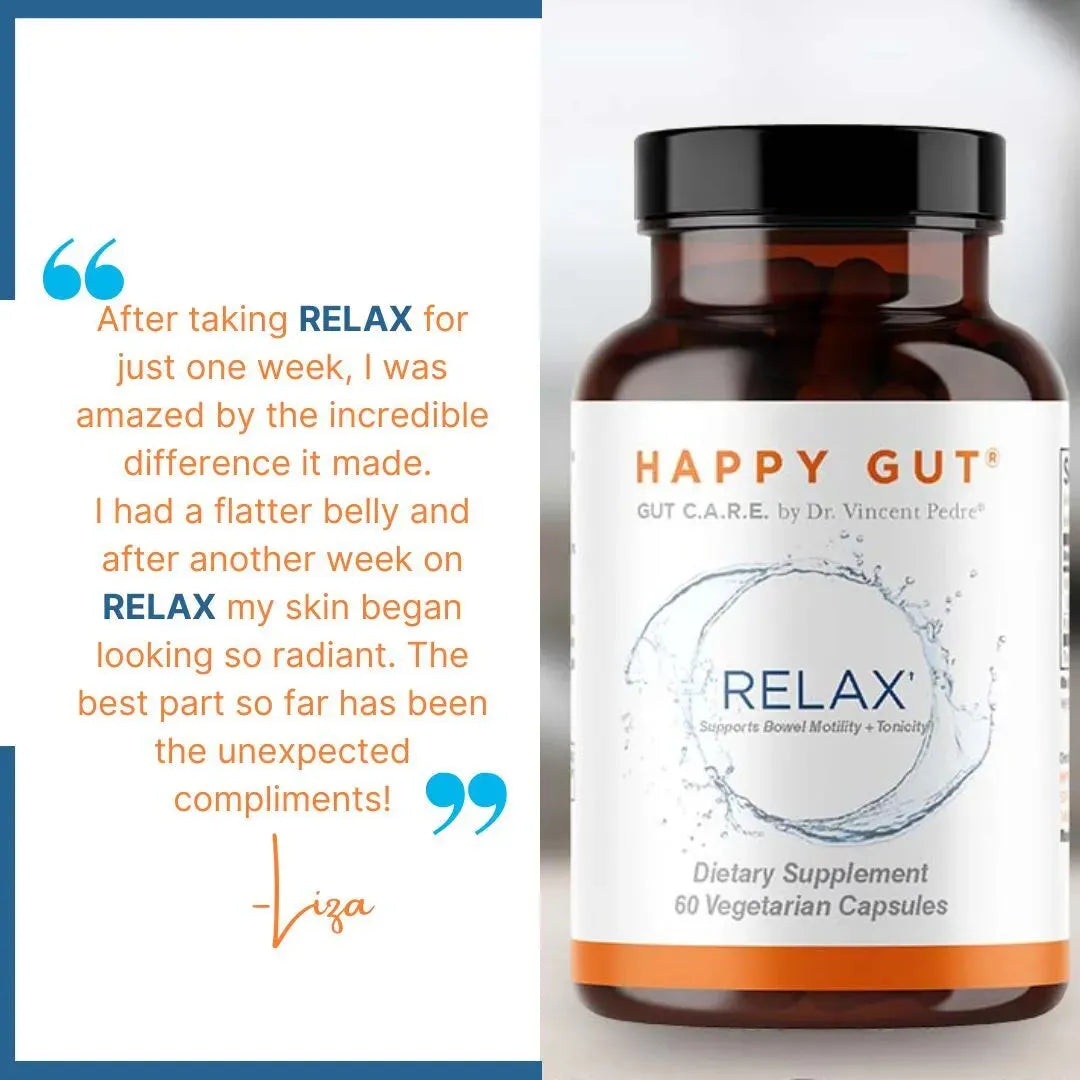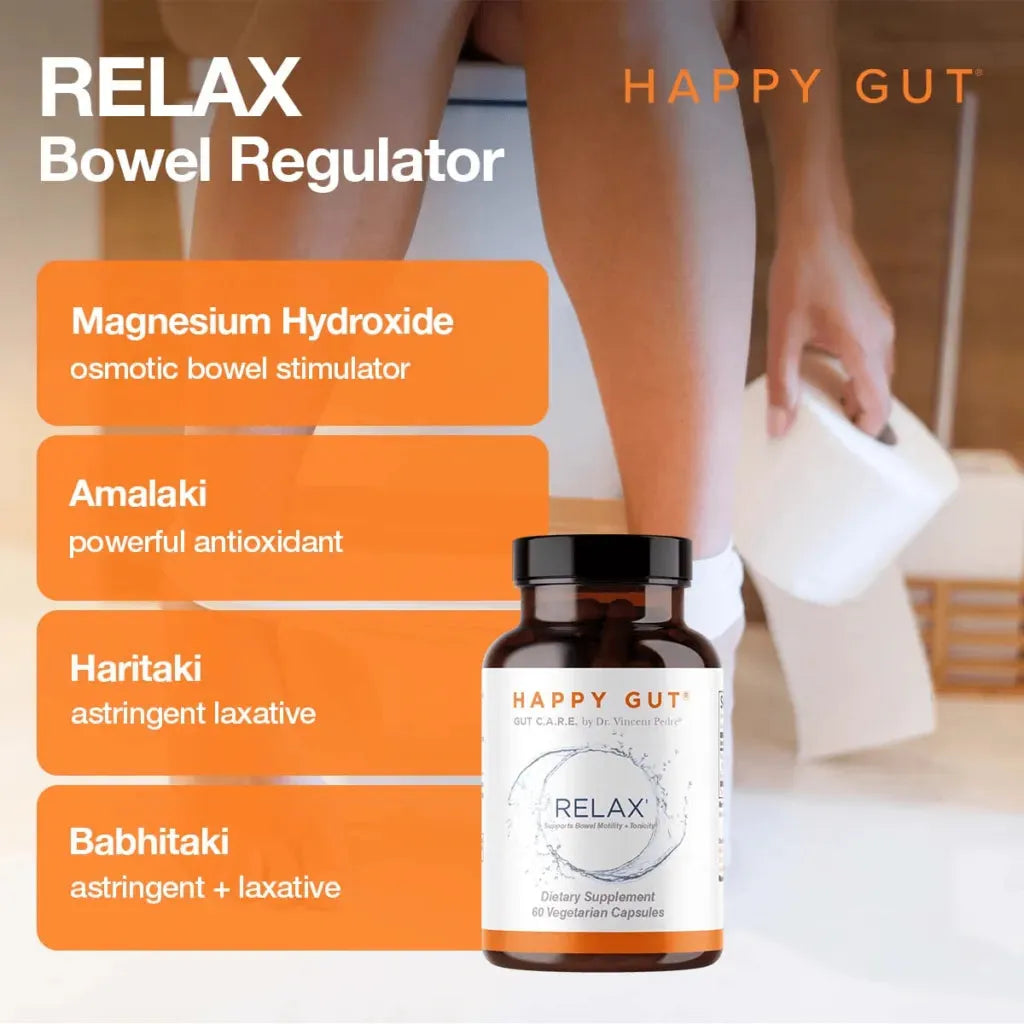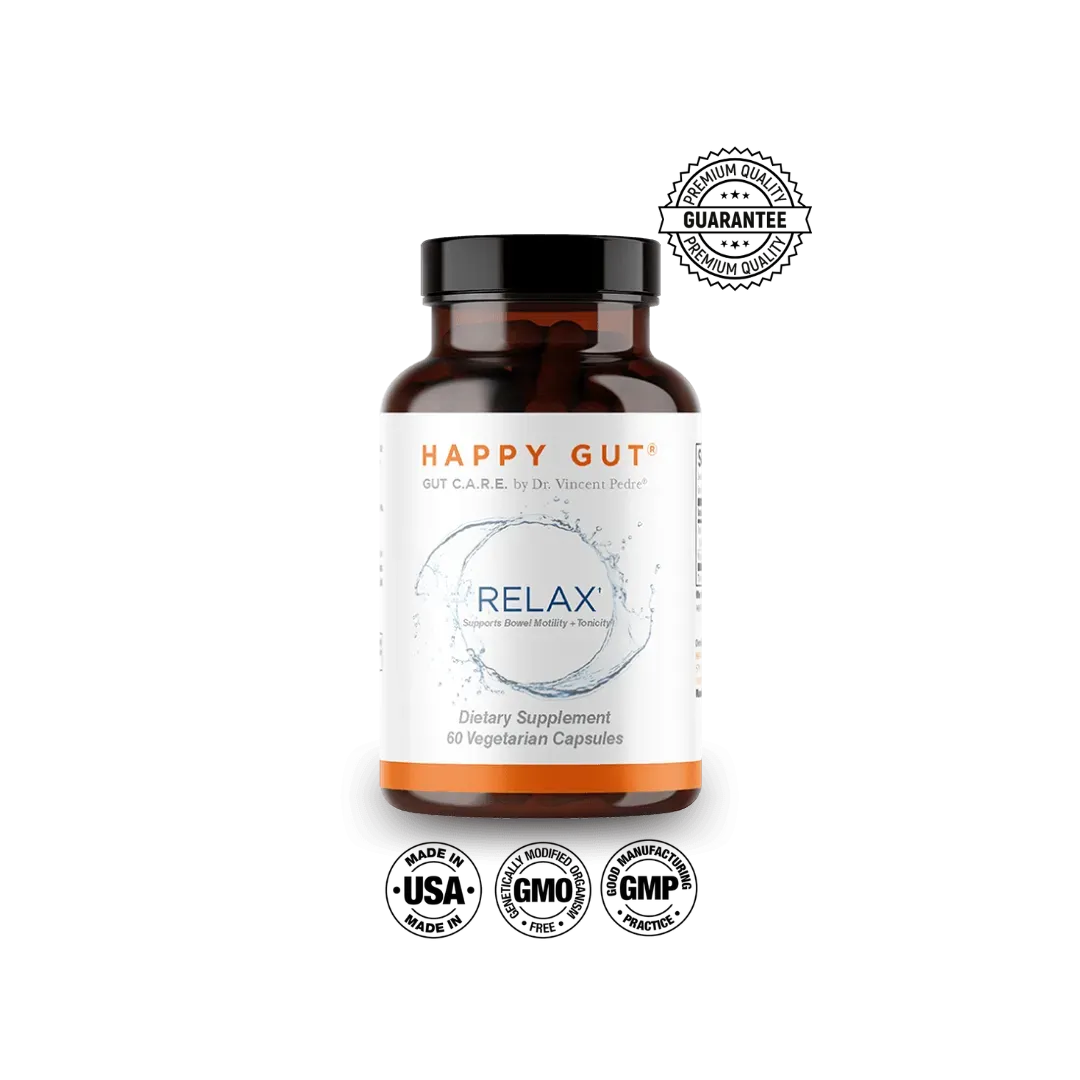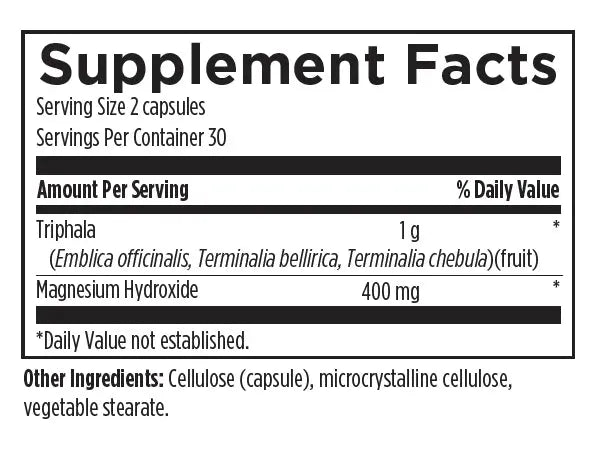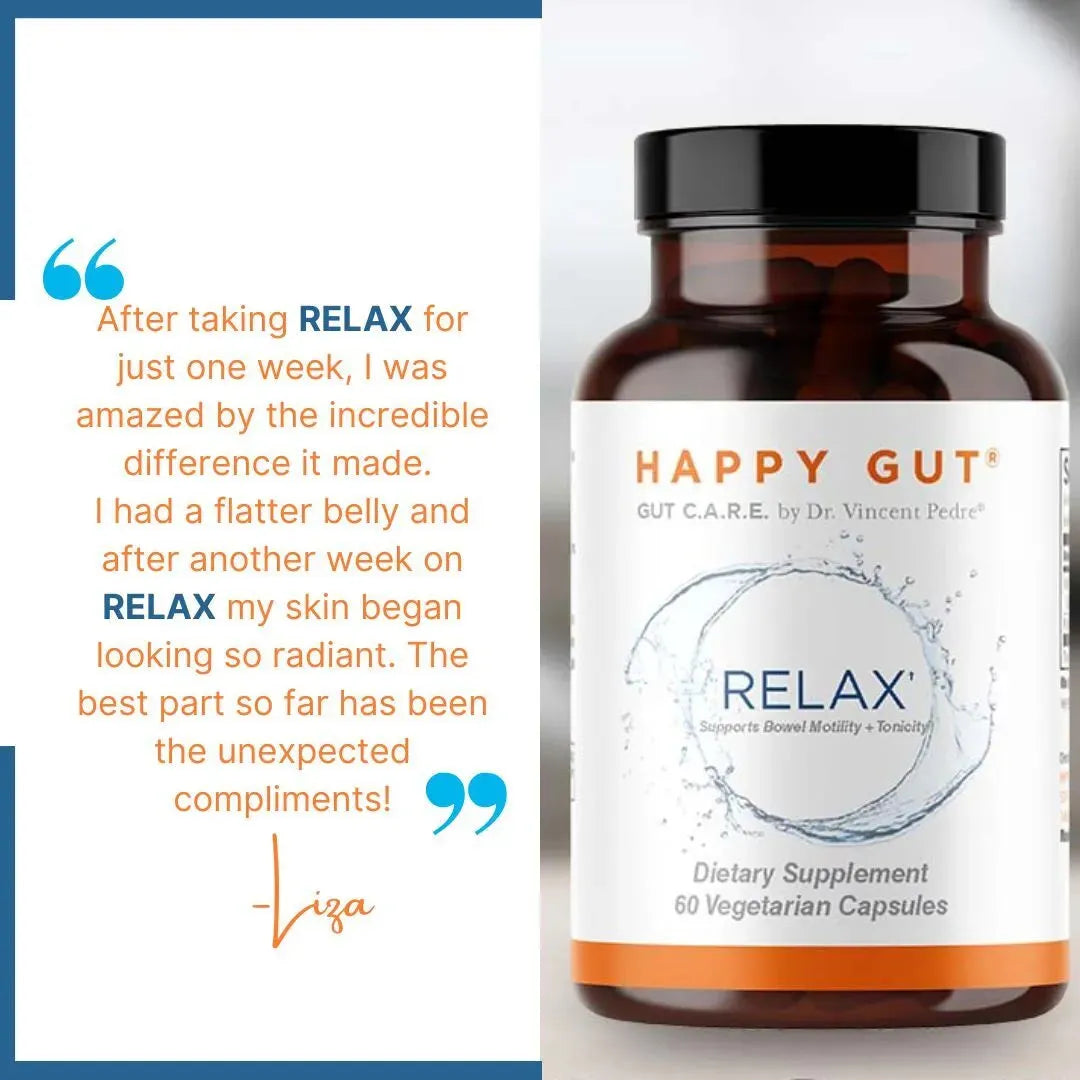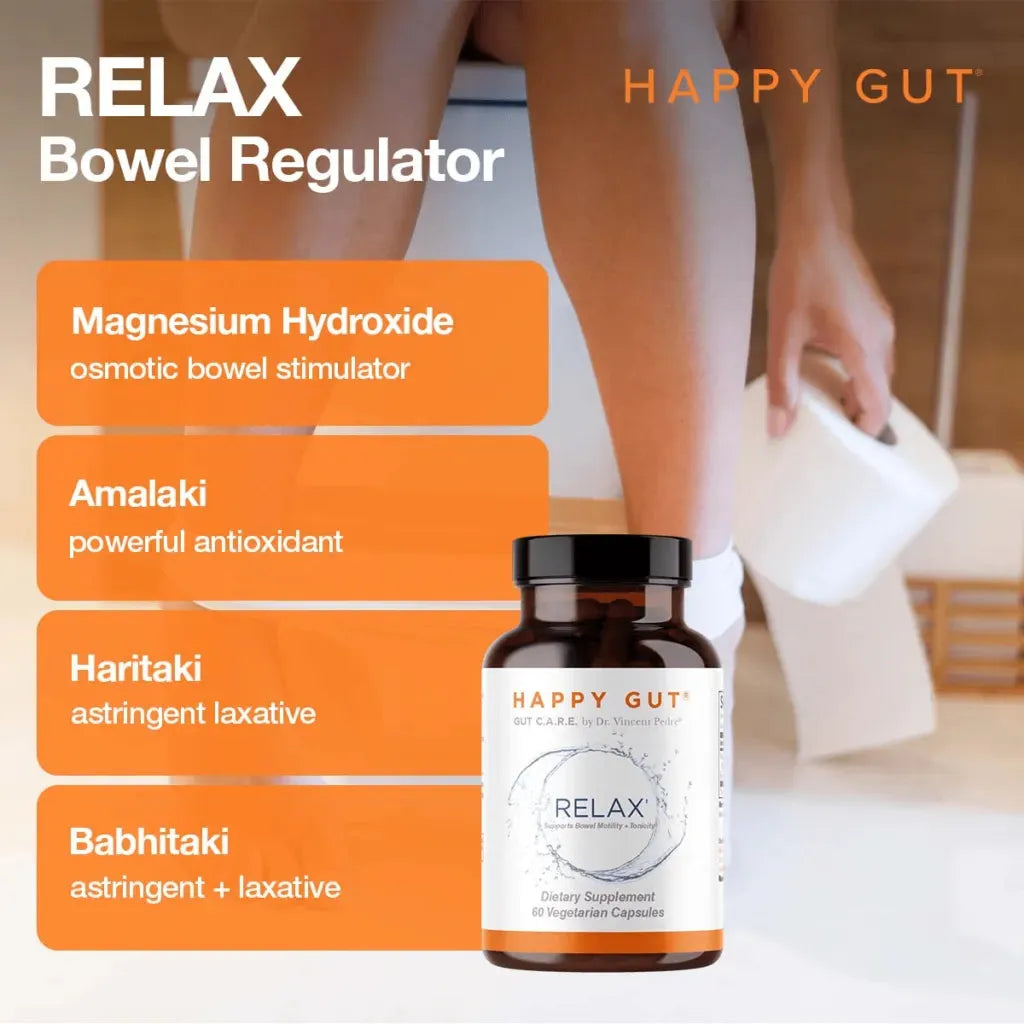 Supplement Facts
Regular price
$ 45.00 USD
Regular price
Sale price
$ 45.00 USD
Unit price
per
Sale
Sold out

RELAX is a bowel supportive formula made from synergistic ingredients, herbs and antioxidants that delivers constipation relief for anyone looking for quick and easy bedtime peace of mind!
Ingredient Facts

Ingredients: Magnesium Hydroxide, Haritaki, Amalaki, Bibhitaki, Cellulose (Capsule), Microcrystalline Cellulose, Vegetable Stearate, Triphala, Emblica Officinalis, Terminalia Bellirica, Terminalia Chebula, Fruit
Formulated Without

 H A P P Y  G U T® ACTIVATE PLUS is formulated WITHOUT wheat, gluten, yeast, soy, animal or dairy products, fish, shellfish, peanuts, tree nuts, egg, ingredients derived from genetically modified organisms (GMOs), artificial colors, or artificial sweeteners.
How to use

Yes.  Take 1-2 capsules together as needed with an 8oz glass of water. Take the recommended dose in the evening or 30 minutes before bedtime.
Medical Disclaimer

† These statements have not been evaluated by the Food and Drug Administration. This product is not intended to diagnose, treat, cure or prevent any disease. Use only as directed. Consult your healthcare provider before using supplements or providing supplements to children under the age of 18. The information provided herein is intended for your general knowledge only and is not intended to be, nor is it, medical advice or a substitute for medical advice. If you have or suspect you have a specific medical condition or disease, please consult your healthcare provider.
View full details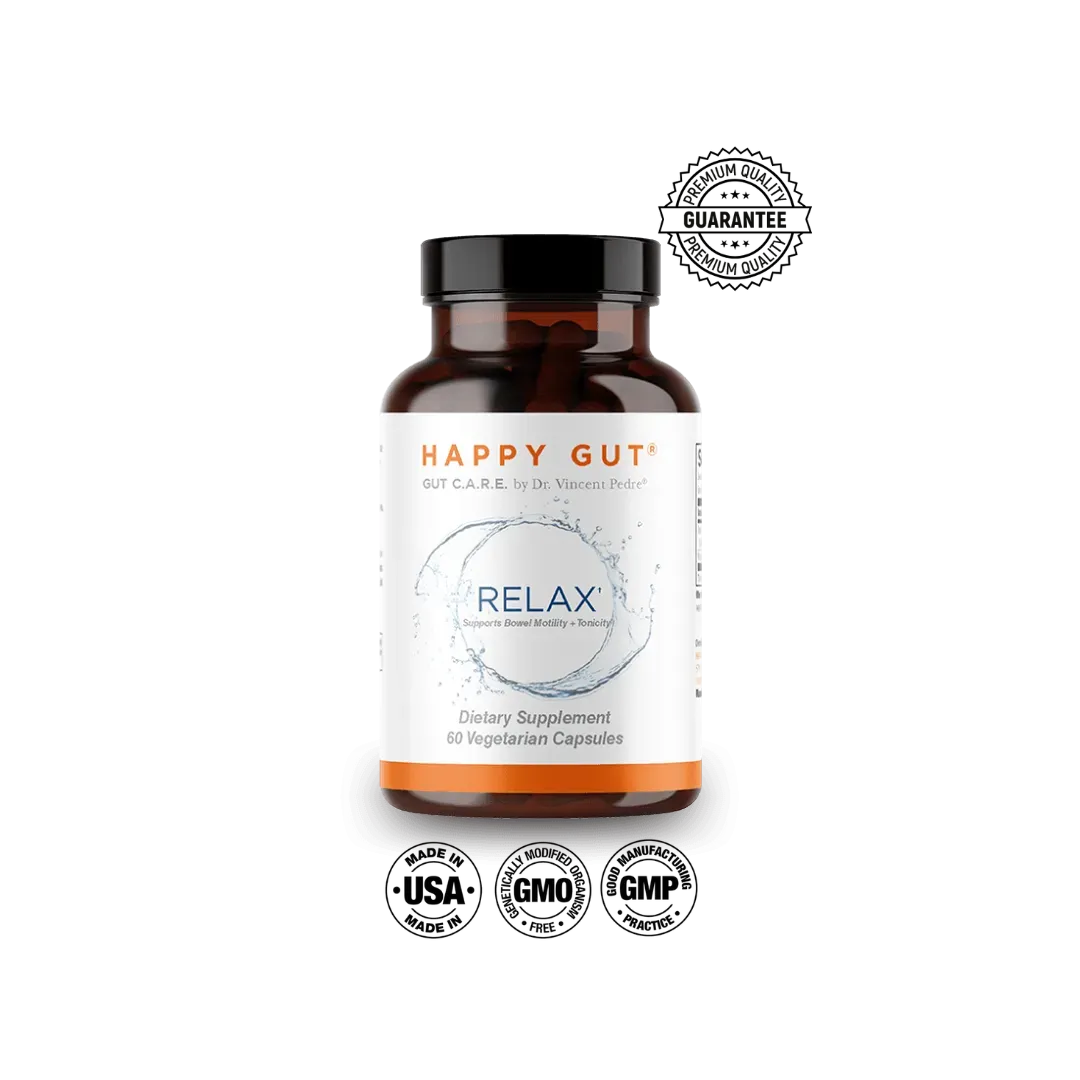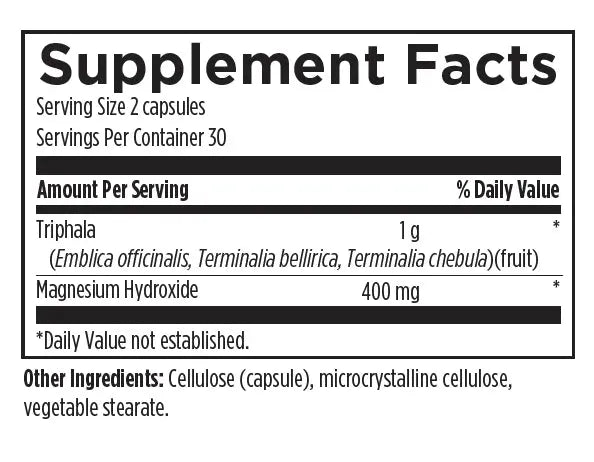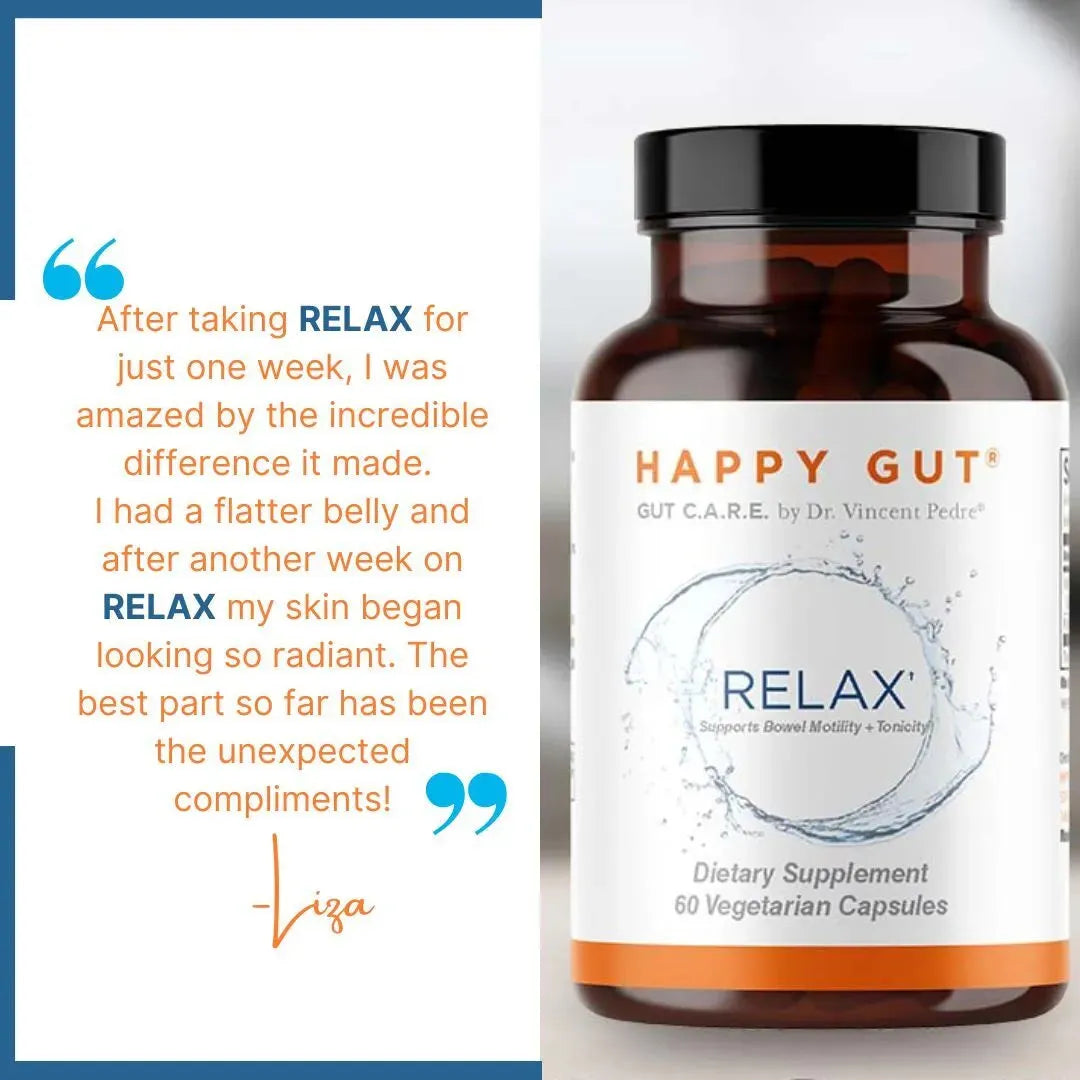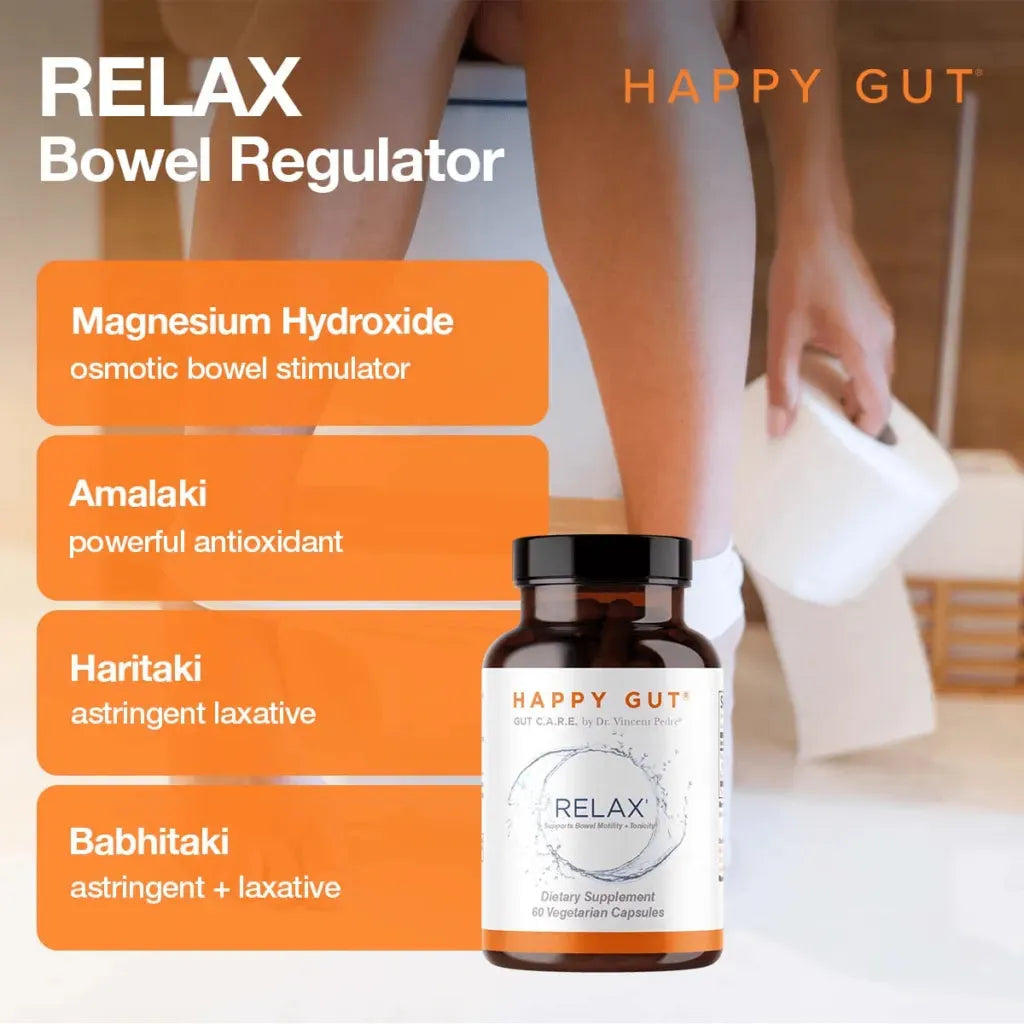 It works!
Relax definitely helps with constipation. I'm so glad I tried it. I take it nightly as instructed and now going 2 sometimes 3xs a day.
It's very helpful-thank you❤️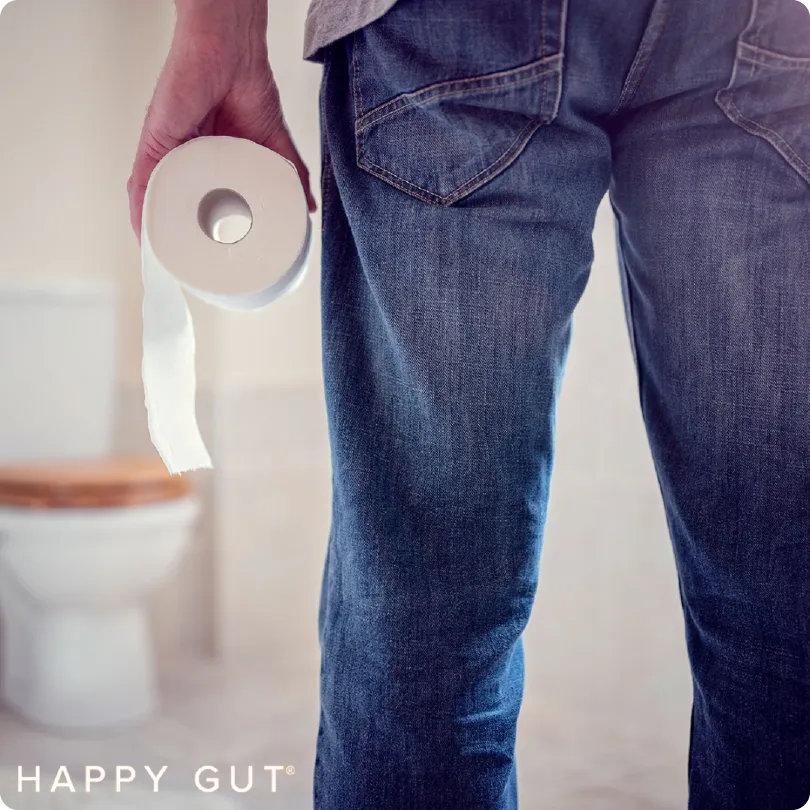 Bloating? Constipation? Low Energy? Skin rashes?
Bloating, acne, low energy, and a weakened immune system are all connected to poor digestion.
Breaking down all food nutrients — proteins, carbs, and fats — with every meal is essential for energy, a flat belly, knowing when you're full and a happy gut… no matter what!
Relax (Ayurvedic constipation relief) can support:
stool consistency — with 400mg of clinically-proven magnesium hydroxide
bowel regularity — with 1 g of ayurvedic dosha-balancing Triphala to safely promote bowel movements
detoxification — helps strengthen and tonify the bowels to remove toxins from the body
Ingredients curated for results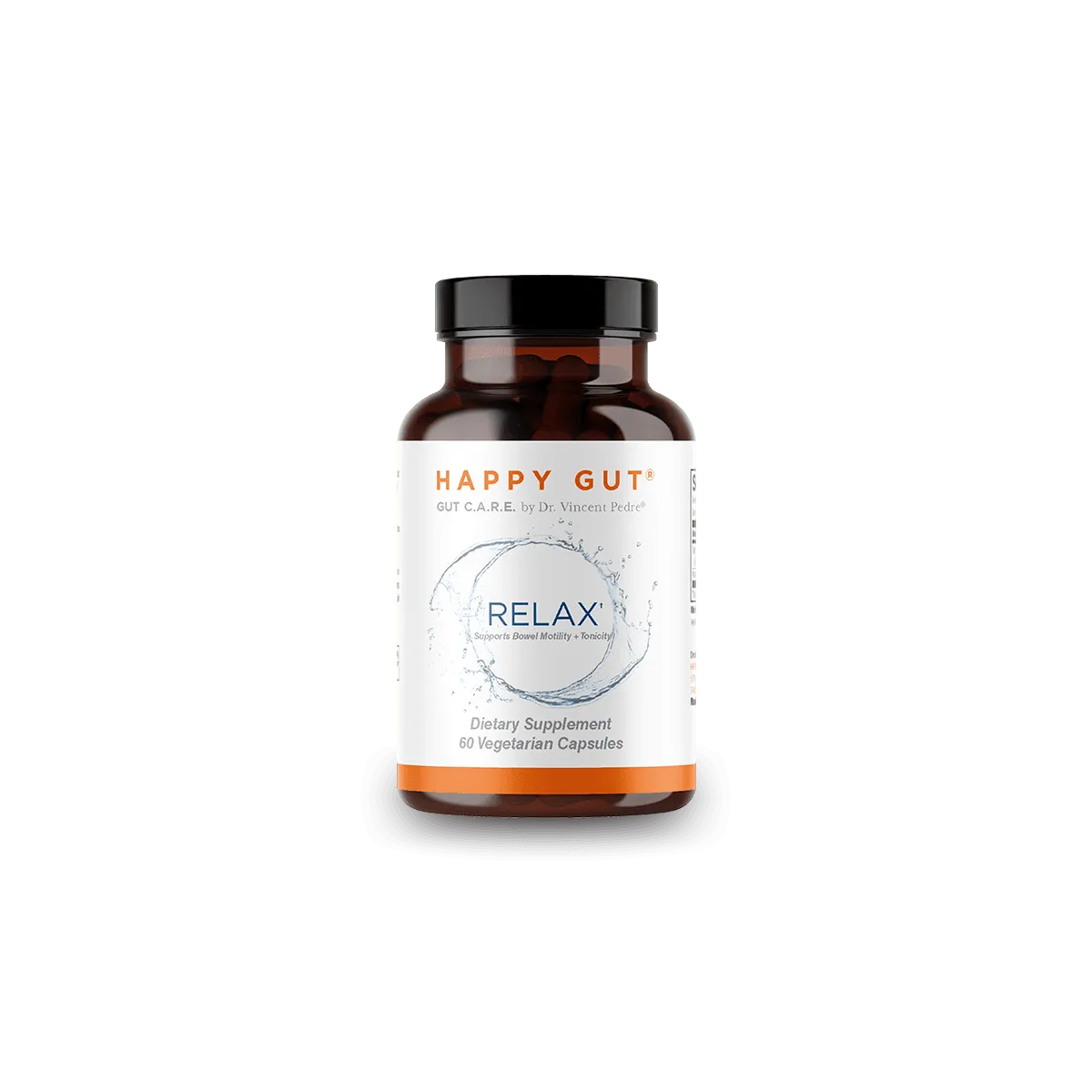 Get rid of gut-related issues once and for all
It can be frustrating while on the journey of healing your gut. Spending your time, energy & money on products that can't provide what they originally promised can be defeating. That's why we use quality ingredients backed with science to help knock out those unwanted symptoms. Get back to feeling better- if you want to learn more, check out our blog.
LEARN MORE
Dr. Pedre on Good Morning America
"Your gut is the seat of all health…if you heal your gut, you heal your body". Watch Dr. Pedre's appearance on Good Morning America to learn more about his gut & digestive health research breakthrough.
Still not sure if this product is for you?
Take our FREE QUIZ for personalized recommendations based on your symptoms and goals, with science-backed products created by Dr. Pedre.
FAQs
What is the best time of the day to take this?

Take the recommended dose in the evening or 30 minutes before bedtime.
Can I take more than one pill if I'm really constipated?

Yes.  Take 1-2 capsules together as needed with an 8oz glass of water.
What's the difference between this and Miralax?

RELAX contains all natural ingredients that work gently with your intestines to promote regular bowel movements just like clockwork without the dependency created by other types of laxatives.
Will my symptoms get worse before getting better?

RELAX works gently over time (2-4 weeks for maximum benefits) by improving how your stool moves through the intestines without cramping or discomfort.
What signs should I look for to know it's beginning to work?

Bowel movements will become easier and more regular over the course of 2-4 weeks — remember this is a natural formula, not a laxative,  that supports a healthier approach to constipation relief. 
Get 10% OFF your next order when you sign up for our newsletter!
Be the first to know about all things gut health!