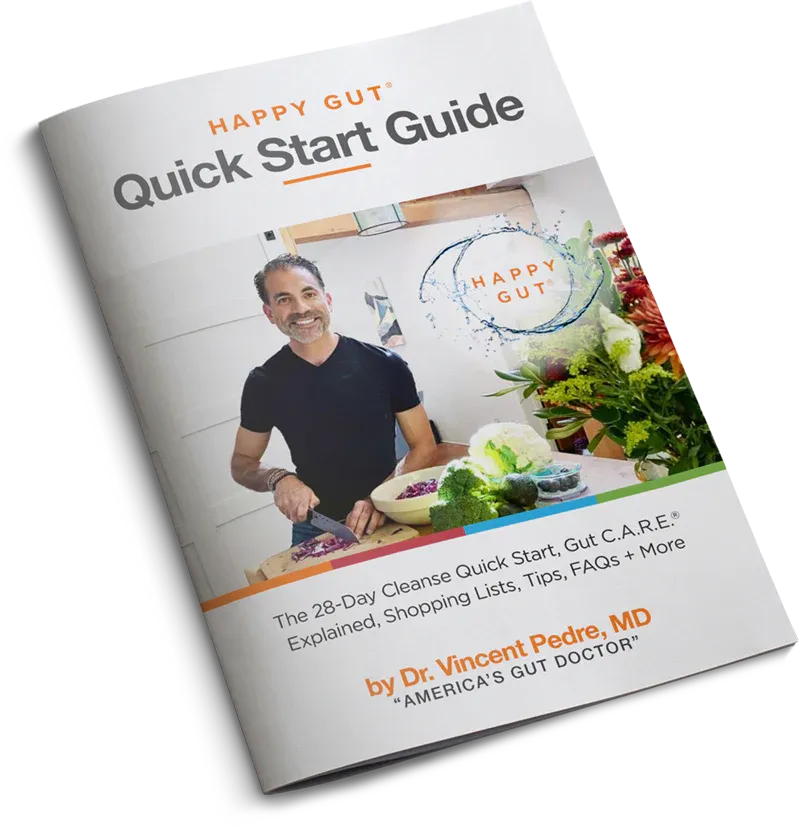 The 28-Day Cleanse Quick Start
Beat the bloat and stomach issues for good while shedding up to 22 pounds in 28 days WITHOUT counting calories, feeling hungry, or wasting time on meal prep thanks to this new step-by-step, HAPPY GUT® Quick Start Guide from leading functional medicine Gut Expert, Dr. Vincent Pedre.

Inside the HAPPY GUT® Quick Start Guide You'll Discover How To:
✔️ Clear up gut issues, like acid reflux, bloating, and bowel irregularity, in as little as 28 days by rebalancing the gut microbiome, so you can have free and easy digestion without depending on medications

✔️ Create the blank slate your gut needs to fully heal and regenerate, so you can gain energy, boost mental clarity, and achieve a healthy weight without counting calories

✔️ Make meal-planning for optimal gut health easy with shopping guides, sample recipes, and more

✔️ Turn back the clock on chronic diseases, like autoimmune disease, and prevent them from coming back for good, without having to depend on medications for the rest of your life

✔️ Implement the exact doctor-recommended supplements for gut-healing support. (The very ones that I take every day.)

✔️ And so much more!