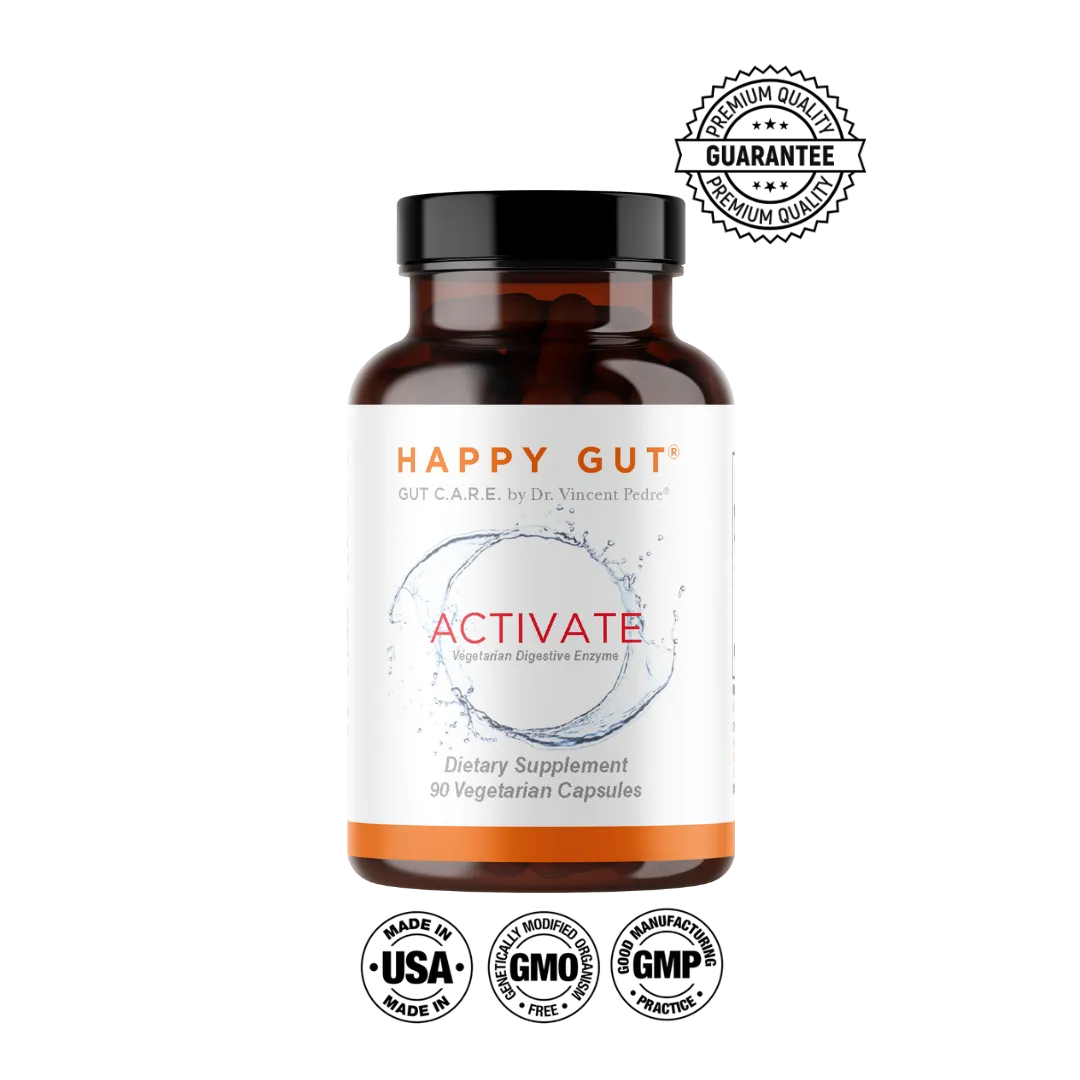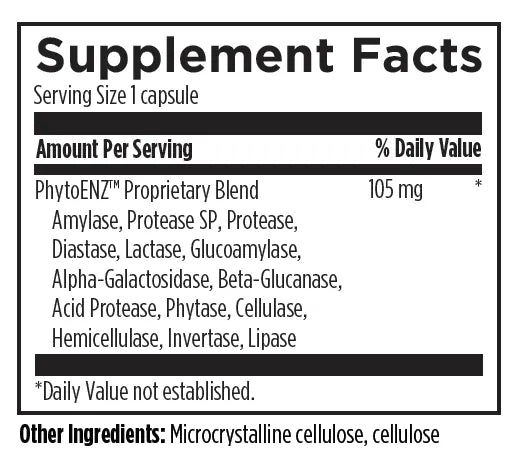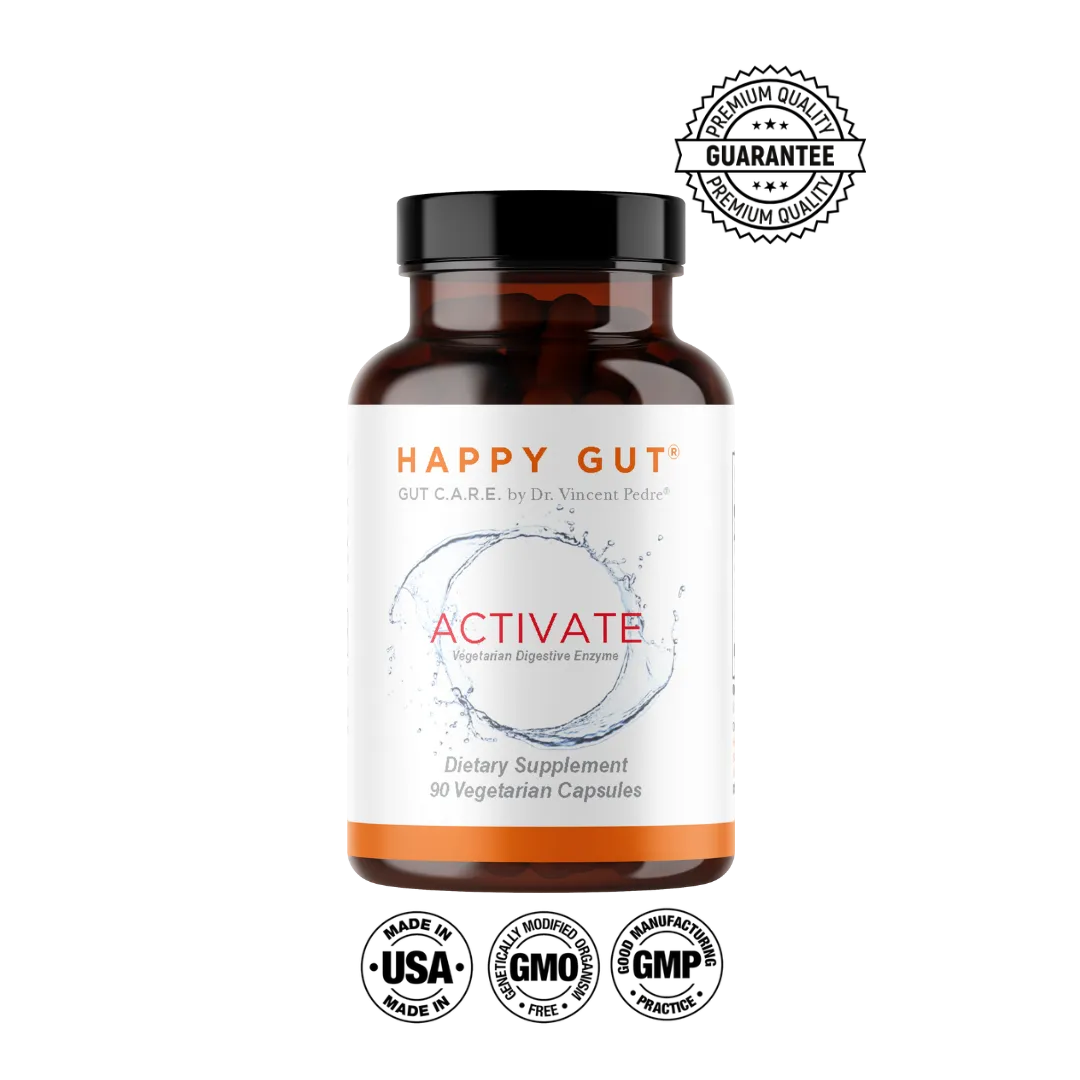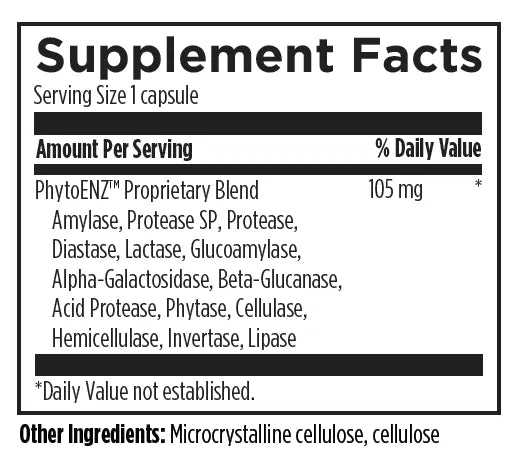 supplement facts
Regular price
$ 45.00 USD
Regular price
Sale price
$ 45.00 USD
Unit price
per
Sale
Sold out


H A P P Y  G U T®

 
ACTIVATE
includes support for digesting all three macronutrients:
Carbohydrate-digesting Enzymes:

 

amylase, glucoamylase, cellulase, hemicellulase, diastase, beta-glucanase, and invertase

Protein-digesting Enzymes: protease, acid protease, alpha-galactosidase, protease SP

Fat-digesting Enzyme: lipase



Several factors in our lifestyle and diet today can often interfere with how we digest, which means that even if we are consuming healthy foods, we may not be receiving the full level of nutrition we were expecting. 

 

A somewhat weakened digestion means we will not effectively absorb vitamins, minerals, fats, or amino acids, and our whole body can be affected in areas such as the immune system, bone and joint health, energy levels, balanced moods, reproductive health, and more. 

 
Fortunately, there are plant-based enzymes that can assist in the healthy breakdown and assimilation of foods.
H A P P Y  G U T®
ACTIVATE
is presented in a vegetable capsule and may be especially helpful for the improved digestion of plant foods like grains and beans, as well as dairy products, which commonly induce digestive upset.*
H A P P Y  G U T® ACTIVATE is formulated WITHOUT wheat, gluten, yeast, soy, animal or dairy products, fish, shellfish, peanuts, tree nuts, egg, ingredients derived from genetically modified organisms (GMOs), artificial colors, or artificial sweeteners.  
"Strengthened digestion means we will harness more of the essential, life-building nutrients in the quality foods we choose"
Consult with your healthcare practitioner about your specific circumstances and any questions you may have. *These statements have not been evaluated by the Food and Drug Administration. This product is not intended to diagnose, treat, cure or prevent any disease.
Share
View full details